Table of Contents
Our
employee engagement platform, Insight
, analyzes employee engagement based on 12 engagement factors. We use this information to provide action plans leaders can use to increase employee engagement with every single person on their team. Each team member's action plan is catered specifically to what they care about most. This automated planning is the most valuable piece of our platform. But this individualized planning focus has one drawback: it's easy to lose the forest for the trees. That's where our Employee Engagement Quadrant comes in. The Employee Engagement Quadrant describes how positively team members view the company alongside how passionate they are about their own engagement. Simply put, how do employees think you're doing, and how much do they care? At a glance, you will find how engaged—and how likely you are to better engage—every person on your team.
Example Employee Engagement Quadrant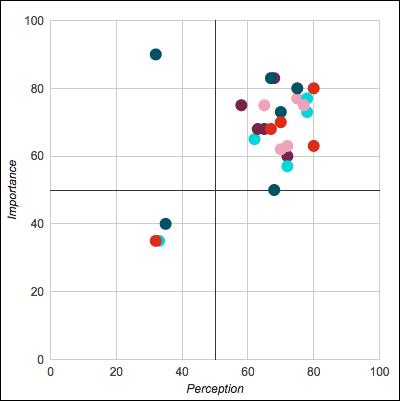 Example Employee Engagement Quadrant from Inventiv Insight
Above is an example Employee Engagement Quadrant (EEQ). Each point on the chart represents an employee's
Importance
and
Perception
engagement metrics.
What are Importance and Perception?
Importance
is the significance of an engagement factor in an employee's everyday experiences at work.
Perception
is how strongly the employee perceives the company to demonstrate their commitment to an engagement factor. These two qualities are measured for each of Insight's 12 engagement factors. The individual scores for each engagement factor are then rolled up into an overall metric that represents Importance and Perception for an employee on the EEQ. As an example, let's look at the
Purpose
engagement factor.
Purpose
is defined as "the desire to produce something transcendent or serve something meaningful beyond one's self." To measure the Perception of Purpose, we ask employees how strongly they agree with the statement "the mission or purpose of my company makes me feel my job is important." We measure the Purpose engagement factor's Importance by asking how strongly employees agree with the statement "helping the company meet its goals is more important to me than the nature of my work." Importance of an engagement factor tells you how much an employee cares about a distinct area of engagement. Perception tells you how well the employee believes the company performs in that distinct area of engagement.
What do the four quadrants mean?
Our ultimate goal for any employee on your team is to increase their overall engagement with the company. Each section on the EEQ describes the relative engagement levels of team members, and how likely you are to positively influence their engagement levels.
Top Right Quadrant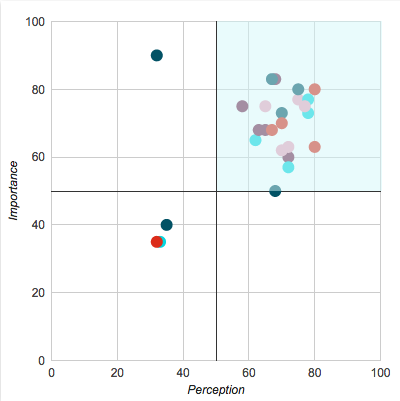 Top Right Quadrant of an Insight EEQ
Ideally, everyone on your team is sitting in the top right quadrant. People in this quadrant are your
engaged employees
. These employees value what the company values. Furthermore, they believe that the company is doing a great job at facilitating employee engagement. This is your desirable end state after using Insight with your team. Don't consider your job to be complete if your team is full of culturally aligned employees, however. There is always room to improve, and maintaining a positive, fully engaged culture is a continuous effort.
Top Left Quadrant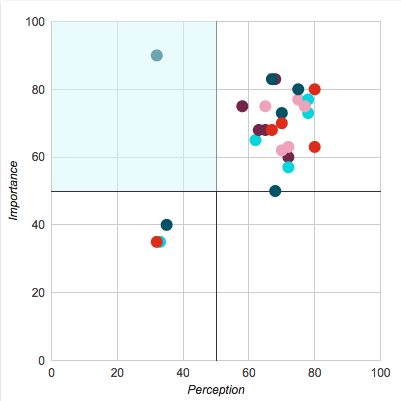 Top Left Quadrant of an Insight EEQ
People in the top left quadrant are
engagement seekers
. While they are not currently satisfied with the company's demonstrated commitment to engagement, they care deeply about their own engagement levels. Engagement seekers want to be culturally aligned employees. Better engaging people in this quadrant will lead to the most positive results in your team's overall engagement score. That is, you should spend significant time and energy with engagement seekers, because they are willing and ready to become more engaged at work.
Bottom Left Quadrant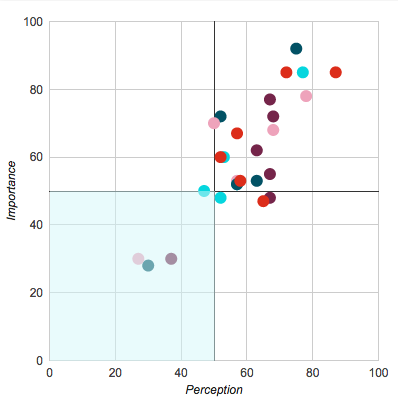 Bottom Left Quadrant of an Insight EEQ
The EEQ's bottom left quadrant is where you will find
disengaged employees
. As a leader, this is a perfect storm of disappointment. Disengaged employees generally believe the company is not performing well and do not feel strongly motivated to seek improvements. Unfortunately, this quadrant often leads to difficult decisions for leaders. Do you invest your time in these people? Or do you compassionately encourage them to seek a better fit elsewhere on another team or in another company? The answers to these questions depend upon your willingness to commit significant time and energy into positively influencing these team members.
Bottom Right Quadrant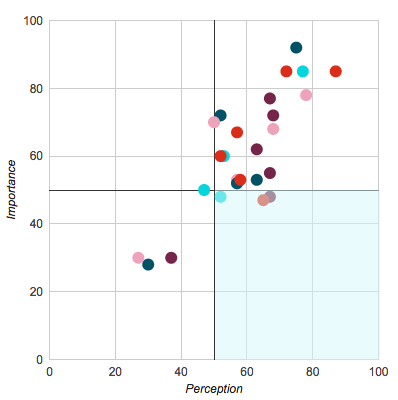 Bottom Right Quadrant of an Insight EEQ
You will find
satisfied employees
in the bottom right quadrant. While these people believe the company does a great job at facilitating employee engagement, they may not feel very passionately about engagement efforts. The reason for this apparent satisfaction but lessened passion may simply be because your company is doing well. While your investment in better engaging these employees may pay off, you will have an easier time influencing the engagement seekers in the top left quadrant.
Where should I start with an Employee Engagement Quadrant?
Once you find your engagement seekers in your top left quadrant, review their action plans. Insight automatically generates prioritized action plans based on what each employee needs most to increase their employee engagement level. By following an engagement seeker's action plan, you will help them become a culturally aligned employee: someone fully engaged and greatly appreciative of the work environment you helped create.
Measure and influence employee engagement with Insight
Book a demo today
to get started with Insight, our employee engagement platform. Insight is the first employee engagement platform to offer personalized, concrete, guided action plans for each person on your team. Leaders will see engagement ideas that positively influence engagement on an individual level, making them more effective and confident in their approach to employee engagement.